Inspired by the Gulf colors of the Porsche 917 that won the "24 Hours of Le Mans" in 1970 and 1971!
Whereas the first three Von Schmidt projects were shining in subtlety, VS 004 immediately catches the eye. Because yes, it stands out! In terms of looks and performance, this car is anything but shy. Striking paint, a custom exhaust system and a finger-licking interior. The Von Schmidt 004 radiates from all sides: you won't ignore me. The question is, of course, why would you want to?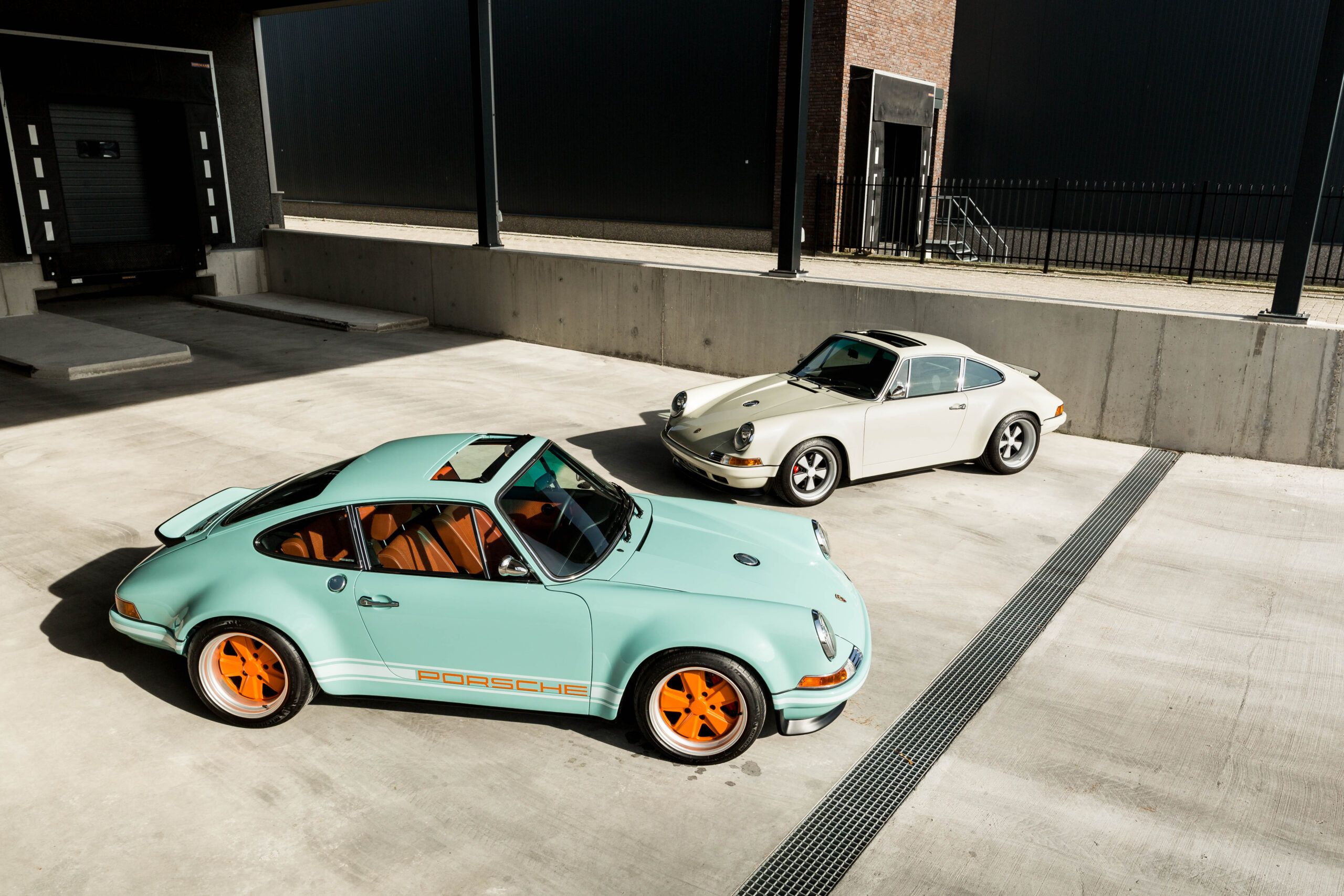 For the Von Schmidt 004, it was clear from the outset that she should be a smash hit! However, this should never be at the expense of comfort. The central locking and the class III alarm system ensured that the Von Schmidt stood firm. The renewed sound system and revised air conditioning system make the VS 004 a car that impresses both its surroundings and its driver.
Every racing fan knows that this car has a 'racy' vibe. The colorway of this car is based on the racing cars of Gulf. In the 1970s, Gulf caused a furore during the 24 Hours of Le Mans. History was written with a Porsche 917 by winning the world-famous race in '70 and '71. Every connoisseur knows: the 24 Hours of Le Mans is gruelling. For drivers and cars alike. The paint of this Von Schmidt is an ode to this gruelling race!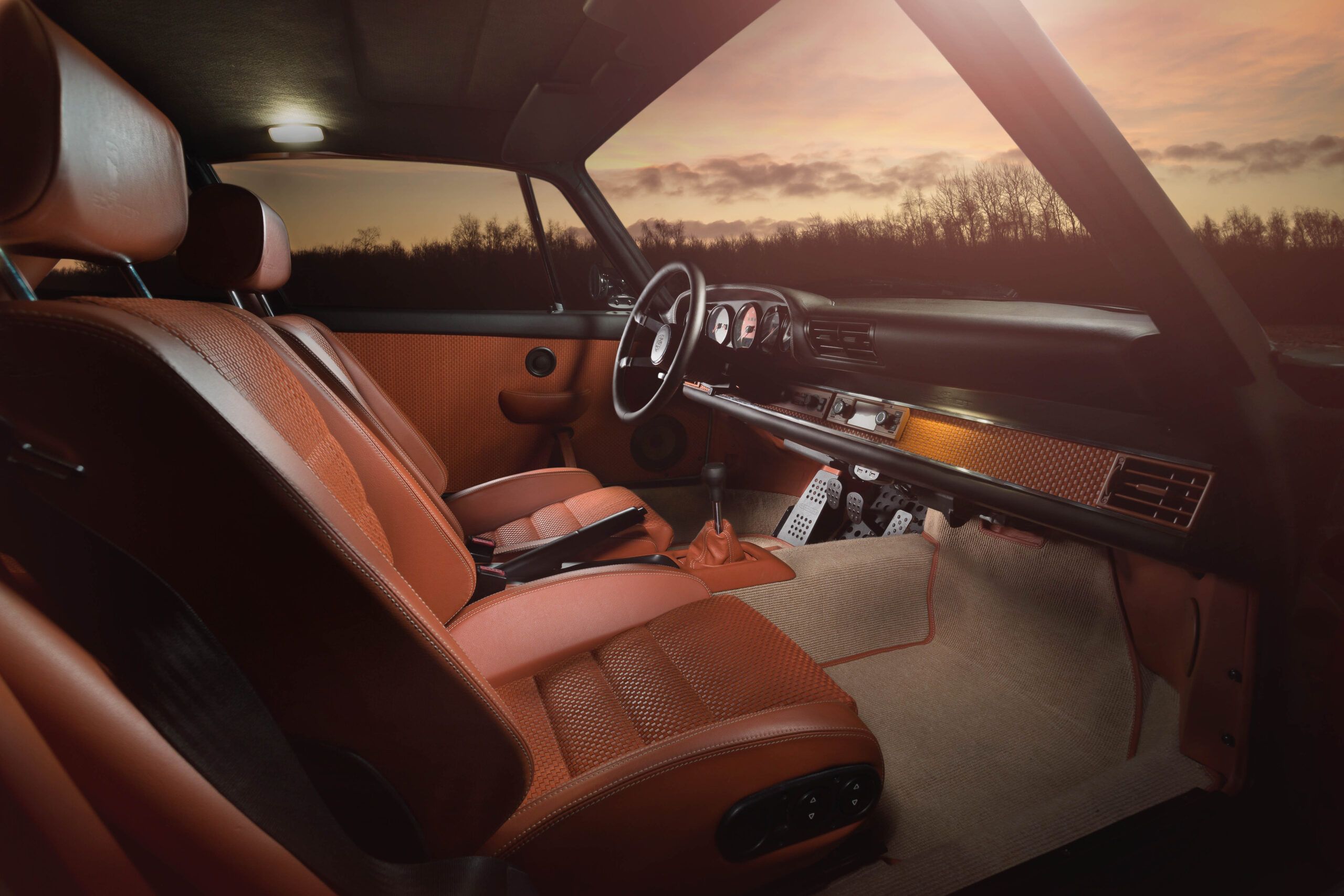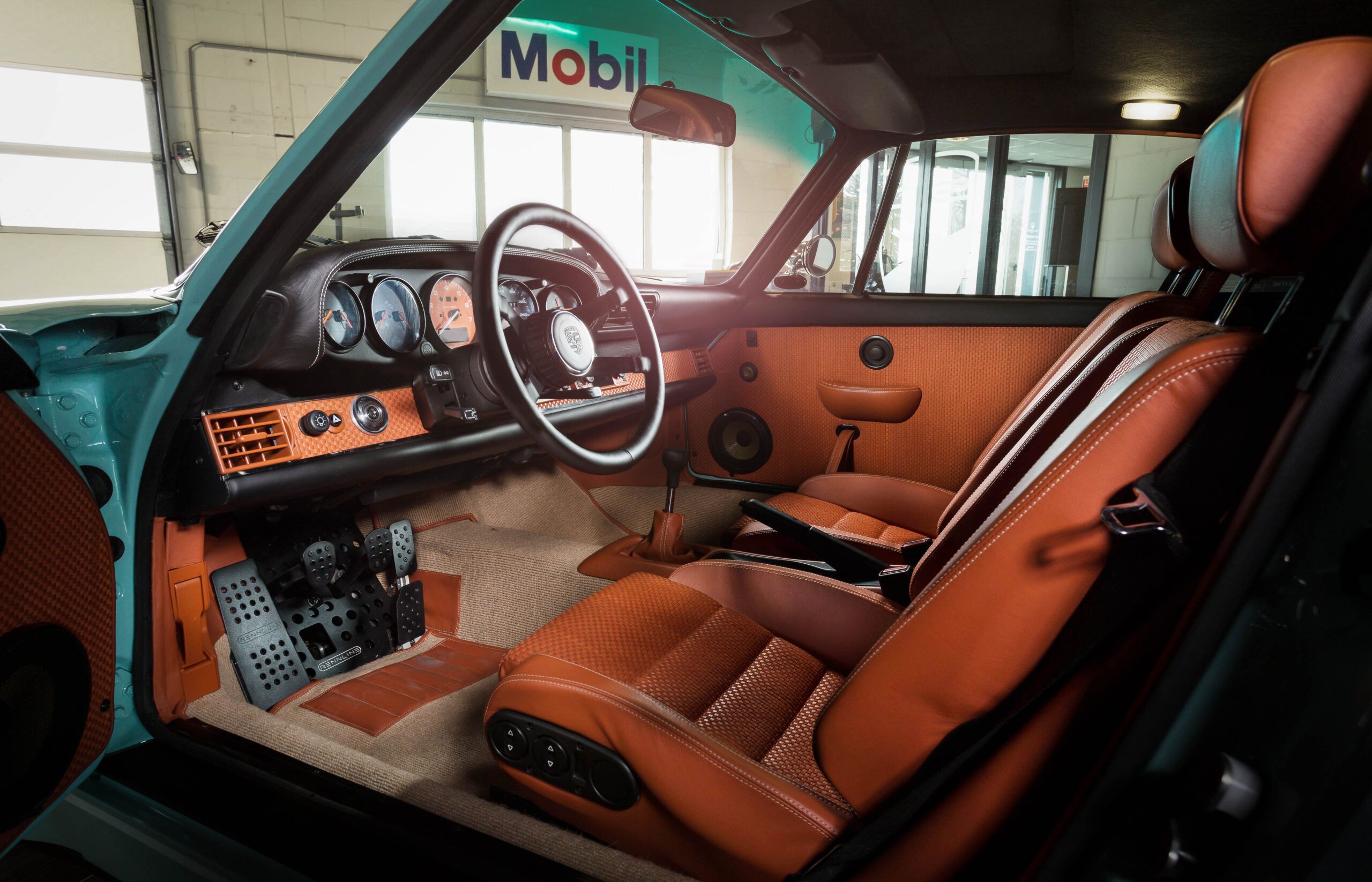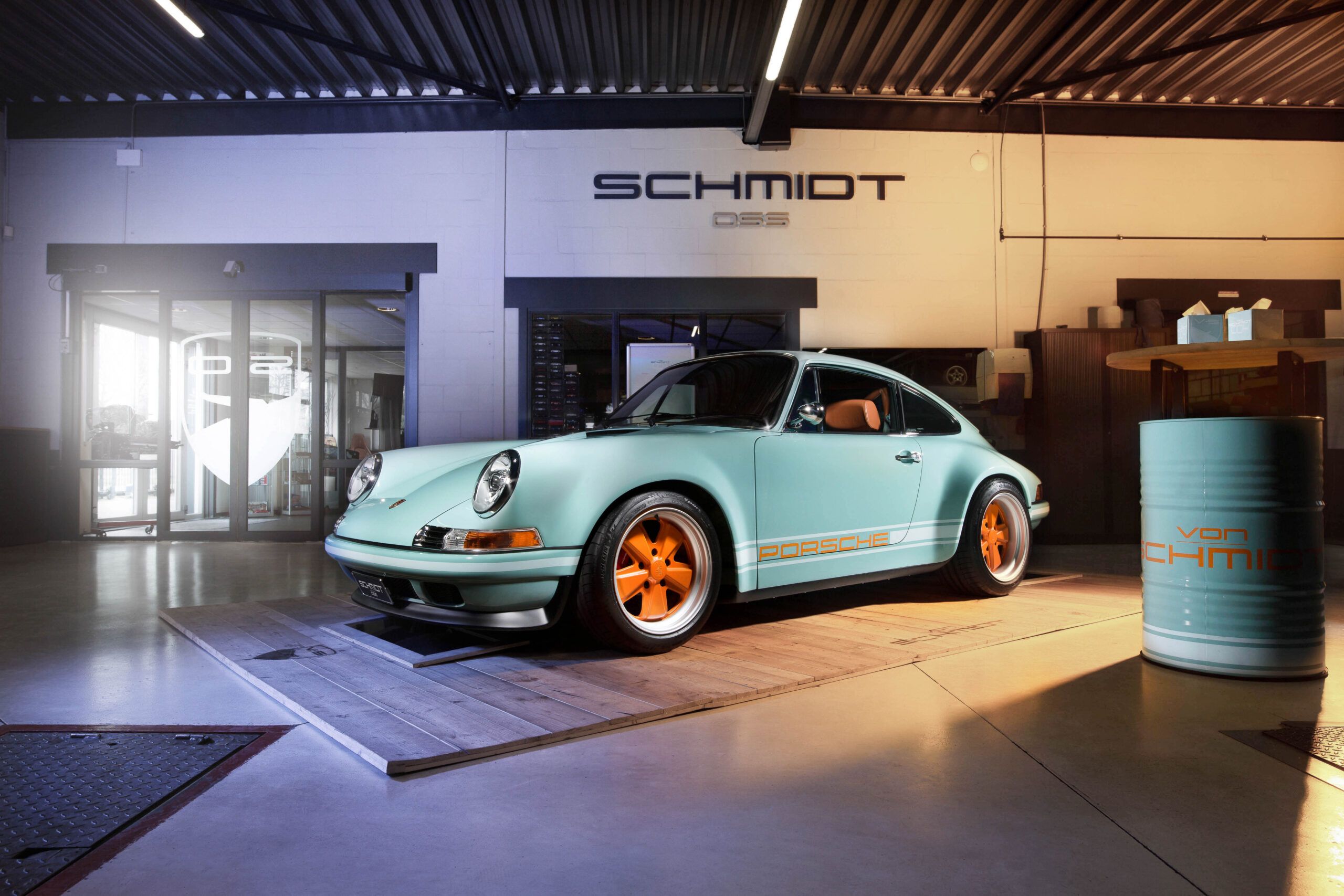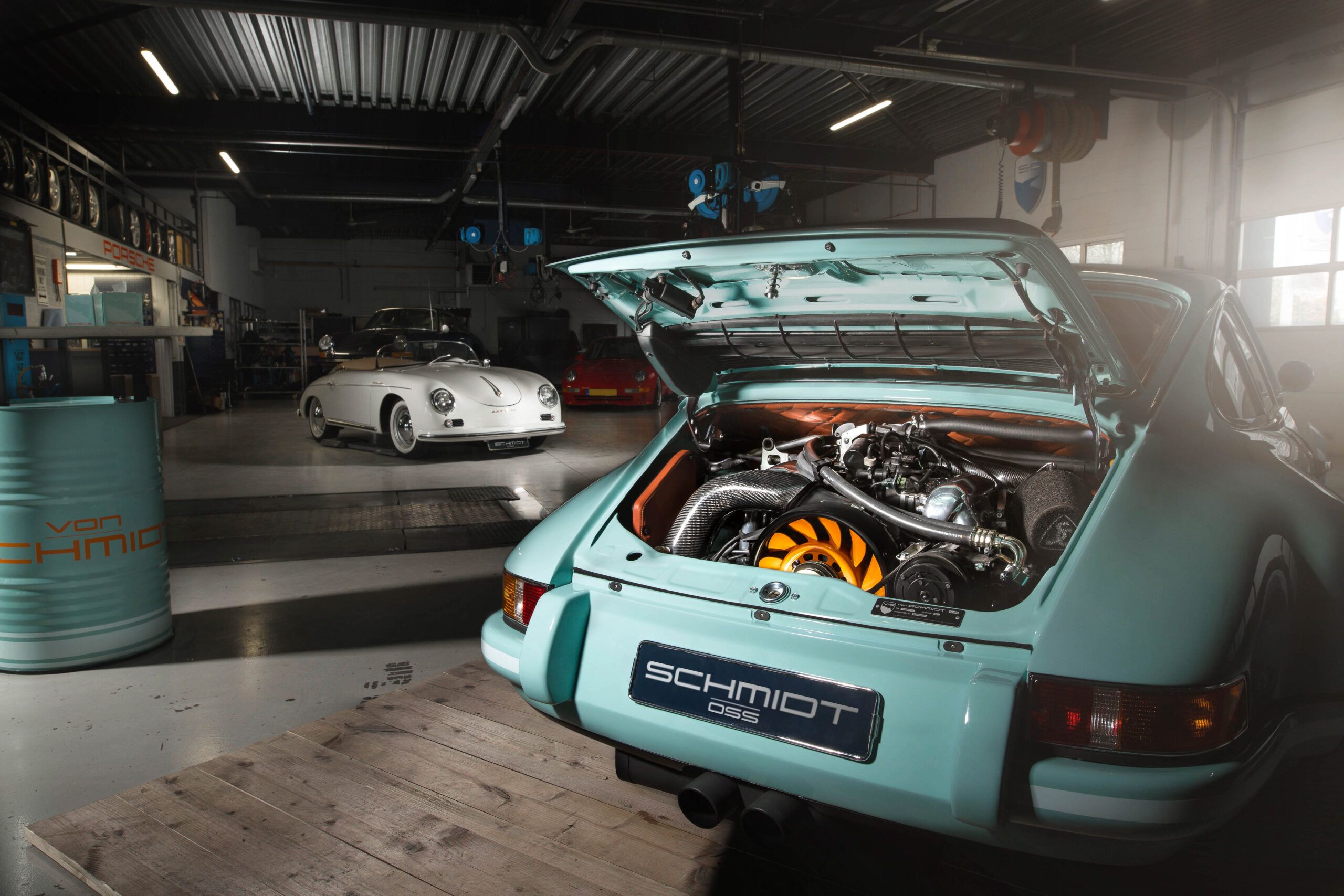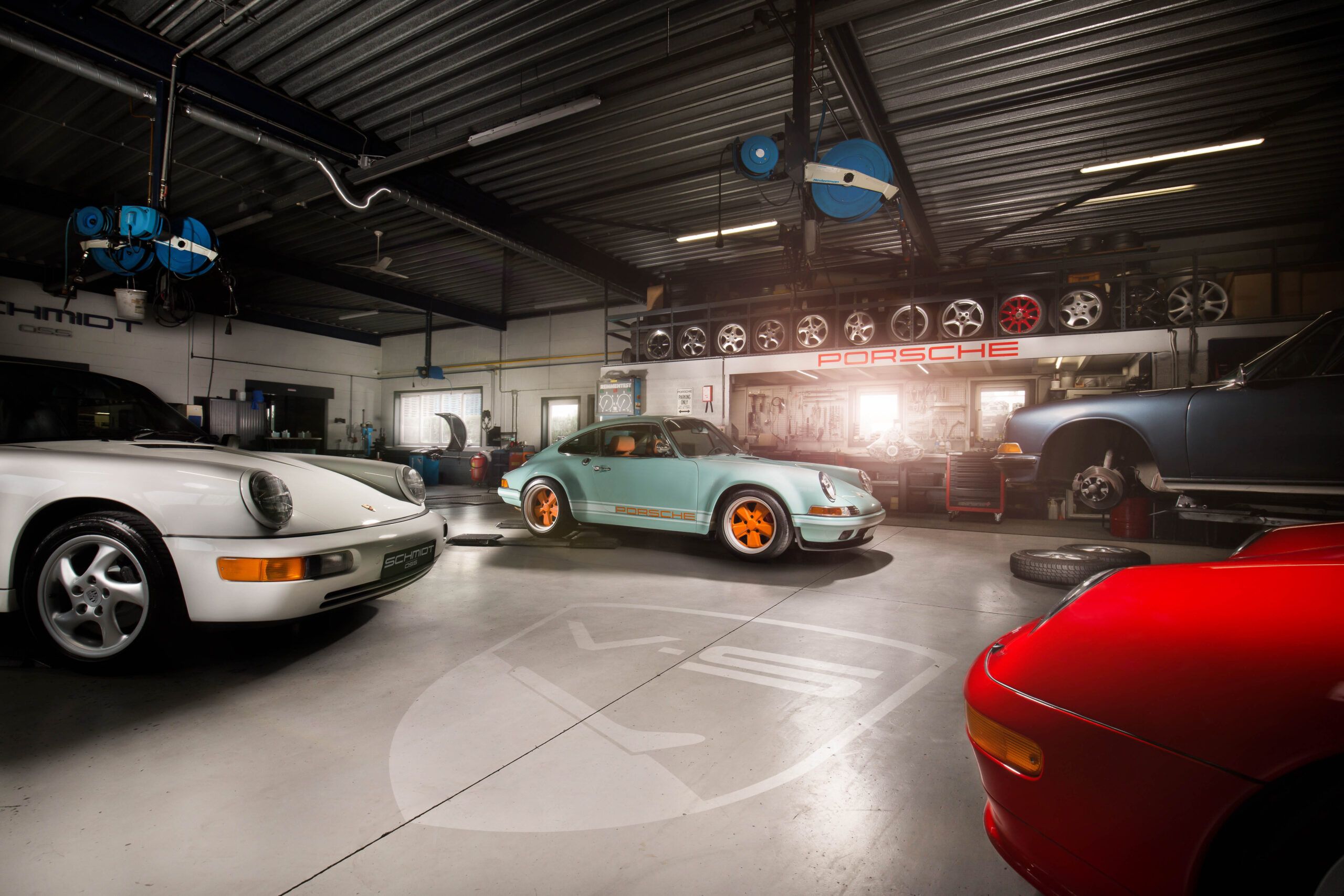 Specifications 004
Design concept: Gulf Bleu Gentle Racer
Colour paint: Gulf blue
Color interior: Brown Velluto Pelle Georgia Clay
Lightweight carbon Von Schmidt conversion to F-type look

Chrome details, door handles and window frames

Updated headlights unique bi-Xenon projector kit

Bullet mirrors mounted in Lexan windows

Polished aluminium boot and hood hinges

Alloy fuel tank with central filler and polished fuel cap

Custom oil tank with polished filler cap installed in right rear wing

Custom-made retro dashboard

Interior Spinneybeck Velluto Pelle leather partly Leather Weave

17″ Fuchs replica Porsche wheels in 9 and 11J - RSR design

Michelin Pilot Sport PS2 tyres in 225/45/17 and 275/40/17

Kevlar inner wheel wells

Engine upgrade to 3.8 (993 RSR Mahle Pistons/cylinders)

GT3 crankshaft with Pauter connection rods

Sports camshafts

Enlarged throttle body modified by Cartronics

Custom-made injection system with upgraded injectors

High-gloss polished intake manifold

Custom-made extractor exhaust system and silencer

Overhauled 993 6 speed gearbox with limited slip diff

Rothsport short shifter set

Enlarged custom central oil cooler with 4 Spal cooling fans

Overhauled and improved air conditioning system

Bilstein B16 PSS10 fully adjustable coilover suspension

Rennline front strut mounts

Rennline suspension droplinks

Custom-made front strut brace

Overhauled steering rack

Steel braided brake lines

Upgraded 993 Turbo Big Red brake system

Custom detailed instrument gauges

Custom-made decal and striping

Original Porsche Recaro seats re-engineered into a retro style

Haargarn wool carpeting

Rennline pedal set

Porsche RSR retro steering wheel

Porsche classic radio navigation with Eton Subwoofers
Would you like to help us build the Von Schmidt legacy, do you have other questions or would you like to stay informed about our developments? Sign in!