De eerste vierwielaangedreven Von Schmidt. Deze build heeft als enige een Porsche 911 C4 als basis!
Driemaal is scheepsrecht. Met Frank als kapitein op het schip zorgen hij en zijn bemanning ook bij de derde editie van de Von-Schmidt collectie voor een high-end 911. De initiator van de VS 003 is een echte petrolhead met decennia aan Porsche ervaring op zak. Net als bij de rest van de Von Schmidt collectie moet de rijervaring en de uitstraling tot in de fijnste puntjes kloppen. Een perfecte rijdersauto is dat immers aan de binnen- én buitenkant.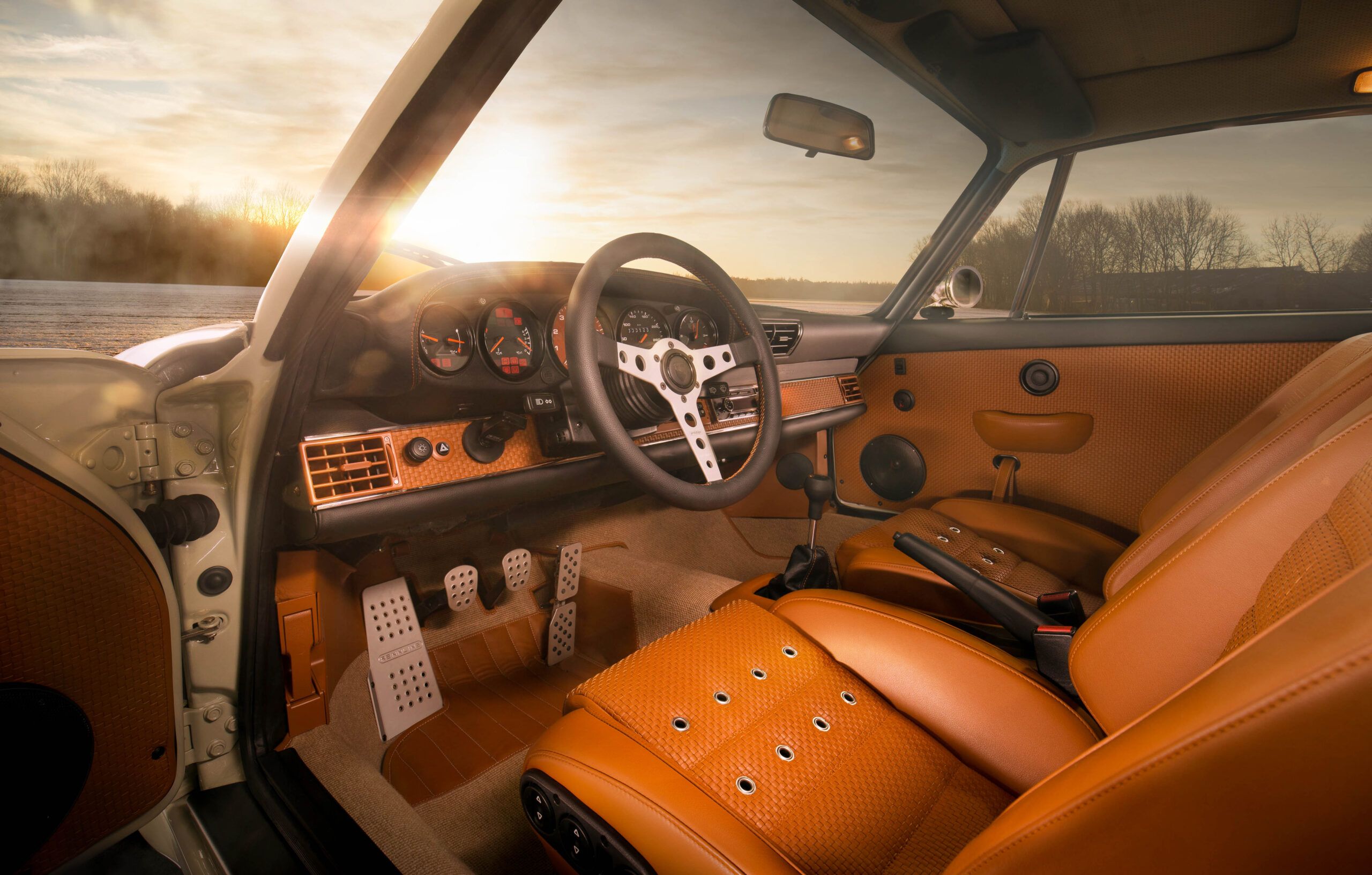 Ook voor deze build is het interieur grondig onderhanden genomen. De originele Recaro stoelen zijn bewerkt en gepersonaliseerd met karakteristiek spinneybeck leather weave. Het plafond van de VS 003 is bekleed met alcantaraleer en het tapijt is van het iconische Haargarn om het klassieke gevoel te benadrukken. Een met leer bekleed Prototipo stuur huisvest een Von Schmidt schild en naast de stoelen is ook het dashboard bedekt met spinneyback leather weave.
Four wheels, four seasons
De basis van deze Von Schmidt is een Porsche 911 C4. Daarmee is de VS 003 de eerste vierwielaangedreven Von Schmidt. Meestal zien we een Porsche 911 in een C2 variant met het vermogen op de achterwielen. Deze restomod heeft het vermogen op vier wielen en past daarmee beter in het rijtje auto's dat de klant eerder heeft gereden. Daarnaast zorgt de vierwielaandrijving voor een gelijkere verdeling van de kracht. Dit maakt de auto comfortabeler in alle weersomstandigheden!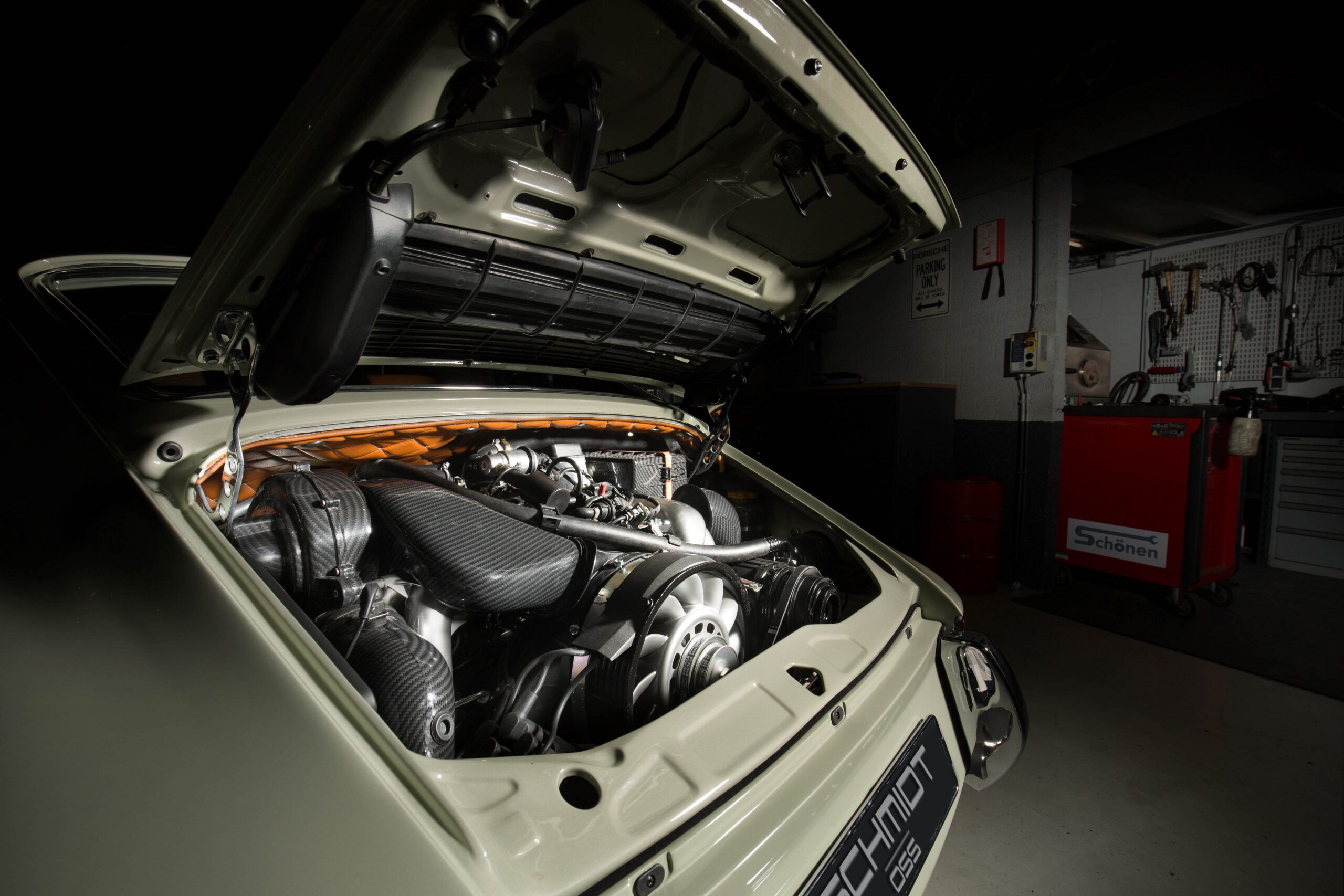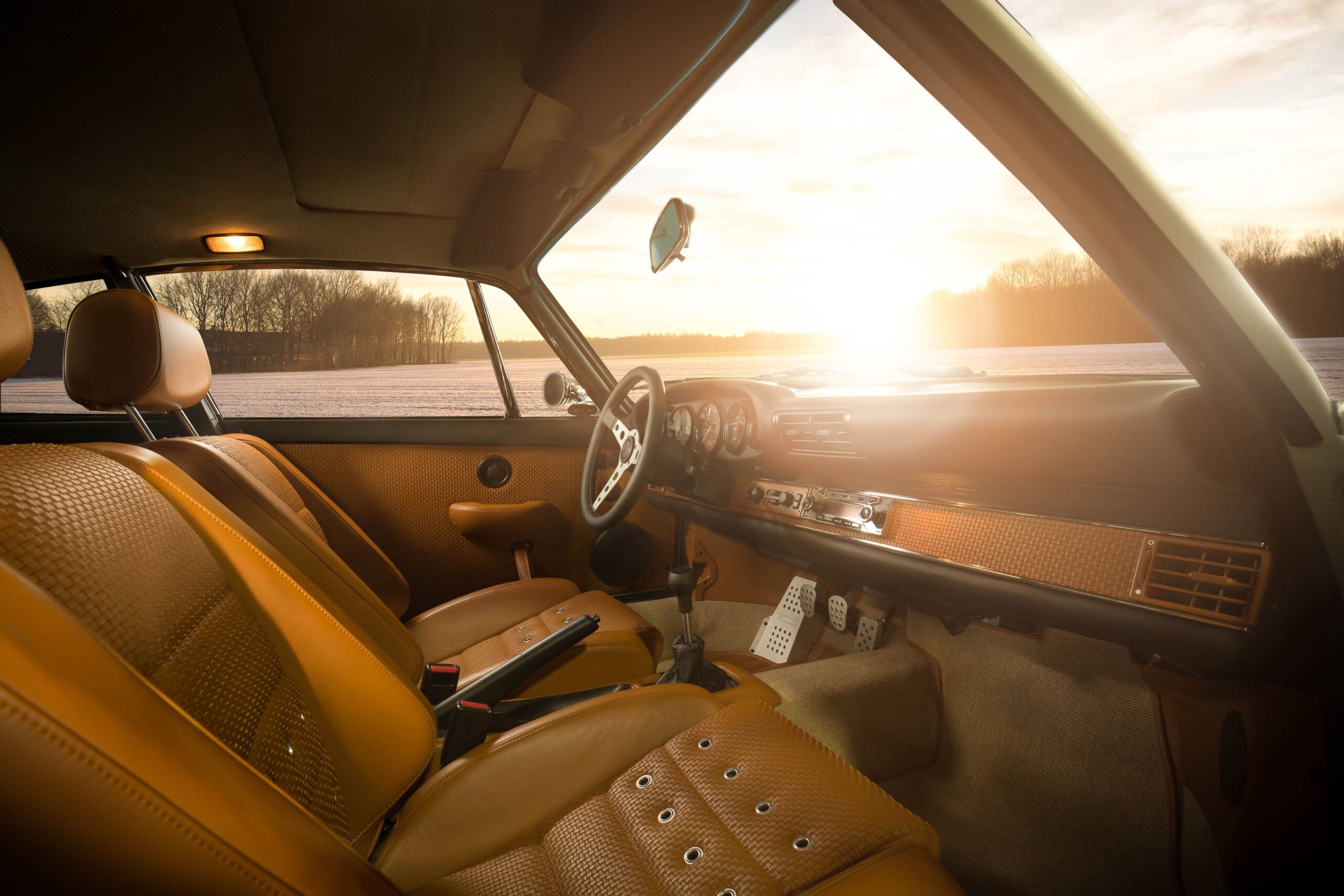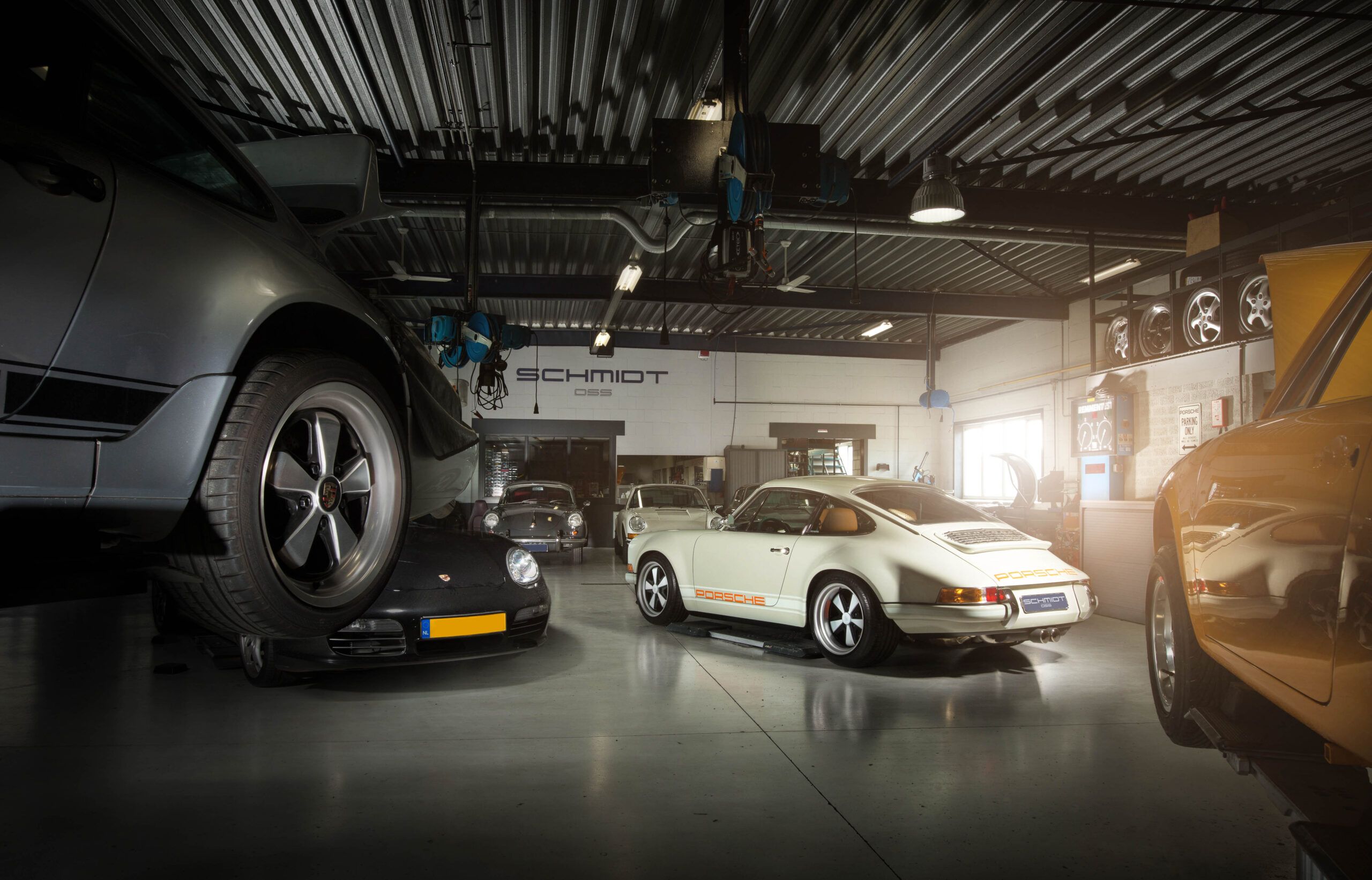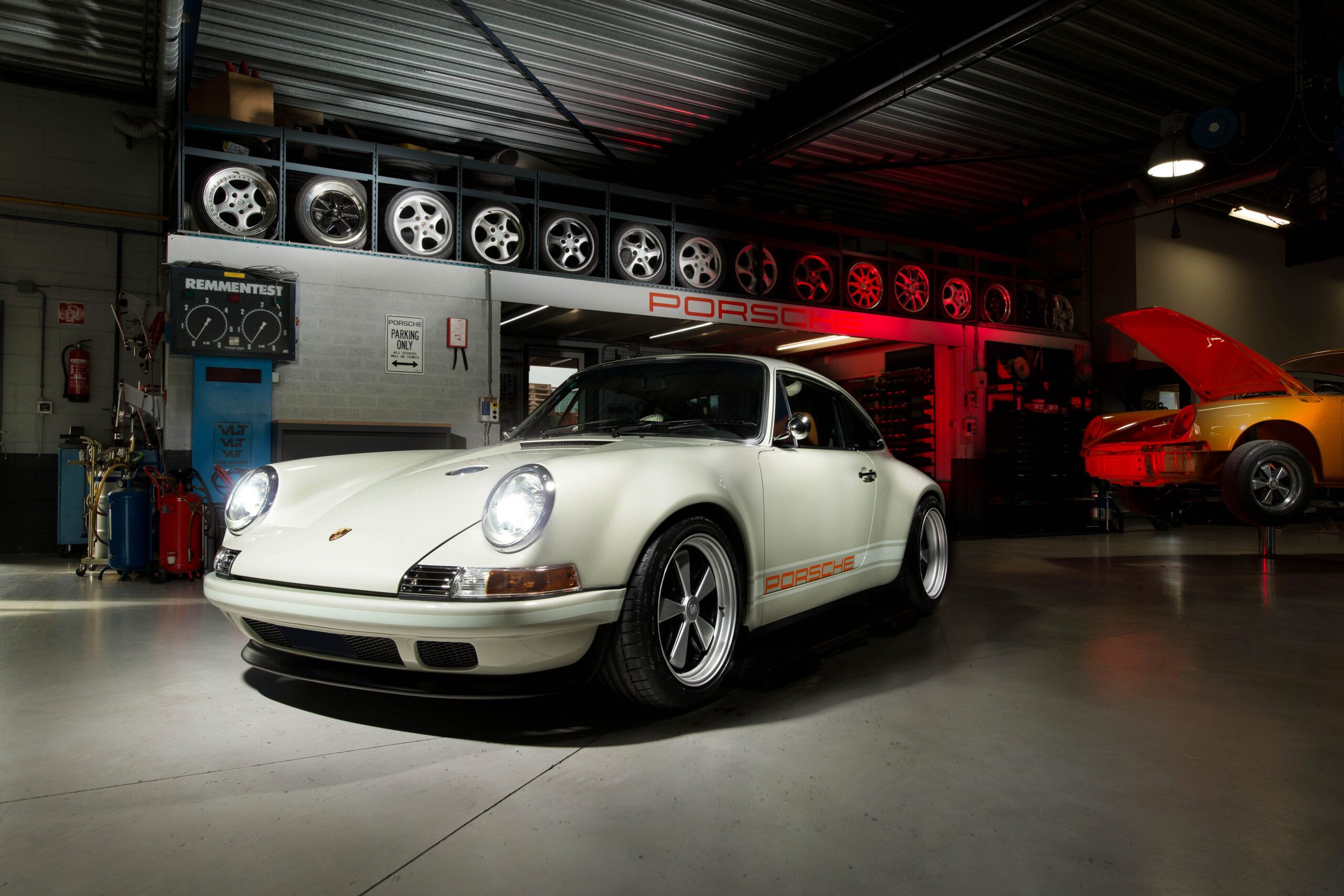 Specificaties 003
Design concept: First 4 Wheel Drive in F-look
Color paint: Custom-made Beige Metallic
Color interior: Brown Velluto Pelle Amber
Lightweight carbon Von Schmidt conversion to F-type look

Chrome details, door handles and window frames

Updated headlights unique bi-Xenon projector kit

Bullet mirrors mounted in Lexan windows

Polished aluminum boot and hood hinges

Alloy fuel tank with central filler and polished fuel cap

Custom oil tank with polished filler cap installed in right rear wing

Custom-made retro dashboard

Interior Spinneybeck Velluto Pelle leather and partly Leather Weave

17″ Fuchs replica Porsche wheels in 9 and 11J – RSR design      

Michelin Pilot Sport PS2 tires in 225/45/17 and 275/40/17

Kevlar inner wheel wells

Engine upgrade to 3.8 (993 RSR Mahle Pistons/cylinders)

GT3 crankshaft with Pauter connection rods

Sports camshafts

Enlarged throttle body modified by Cartronics

Custom made injection system with upgraded injectors

High-gloss polished intake manifold

Custom-made extractor exhaust system and silencer

Refurbished 4-wheel drive drivetrain

Enlarged custom central oil cooler with 4 Spal cooling fans

Overhauled and improved air conditioning system

Bilstein B16 PSS10-fully adjustable coilover suspension

Rennline front strut mounts

Custom-made front strut brace

Overhauled steering rack

Steel braided brake lines

Repainted and restored original brake calipers

Custom detailed instrument gauges

Custom-made decal and striping

Original Porsche Recaro seats re-engineered into a retro style

Haargarn wool carpeting

Rennline pedal set

Momo Prototipo Steering wheel with customized stitching

Becker classic radio navigation system
Wilt u met ons meebouwen aan de Von Schmidt legacy, heeft u andere vragen of wilt u op de hoogte blijven van onze ontwikkelingen? Schrijf je in!