Speedgelb lak, groene accenten en een wegligging om te zoenen. Herbeleef de jaren '70 op een miraculeuze wijze!
Lightning speed
is what you need
Zit u op een terras, hoort u het gebrul van een motor en flitst er een gele Porsche voorbij? Grote kans dat de Von Schmidt 005 voorbijvloog. Dit racemonster is gespoten in 'Speedgelb'. Welbekend bij iedere Porsche fan. In de VS 005 herbeleef je de sfeervolle jaren '70 dankzij een iconisch interieur met het comfort van een wagen uit het heden. De vijfde editie is een racebeest geworden. Onverwachts indrukwekkend, onverwachts comfortabel.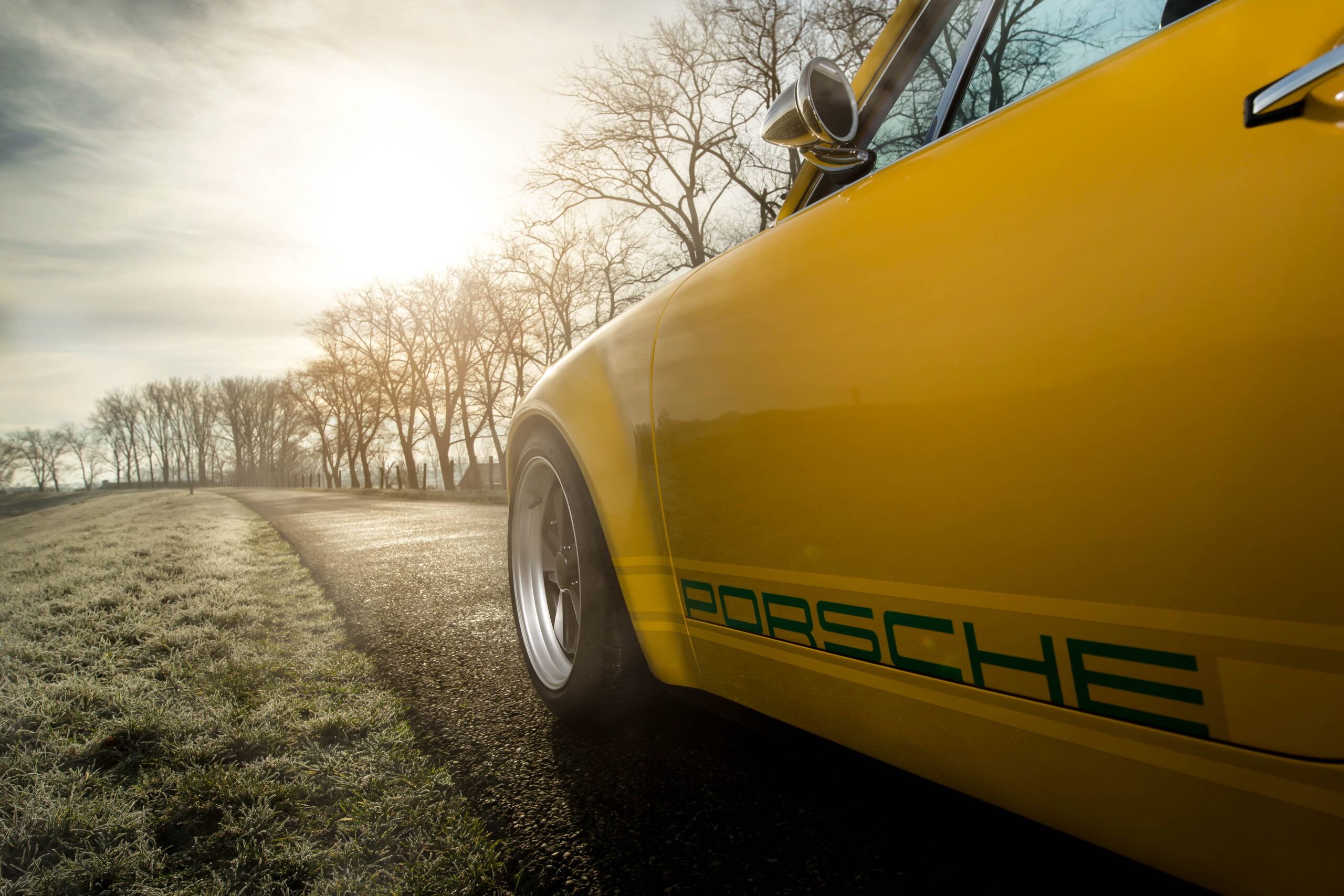 Met een gereviseerd 3.6 blok, aangepast injectiesysteem en een 5-versnellingsbak met sperdifferentieel is de VS 005 een krachtpatser van formaat. Dankzij haar clubsportbeugel, RS-voorwielophanging en Uniball veerplaten achter heeft de VS 005 een wegligging waar je u tegen zegt. Kortom, al rijdend in de Von Schmidt 005 ziet u andere weggebruikers voornamelijk in uw achteruitkijkspiegel verdwijnen.
Dat ze bij het Porsche merk omarmen wat dierbaar is weet iedere liefhebber. Zo hebben zij de specifieke kleur geel omgedoopt tot 'Speedgelb' wat vrij vertaald 'snel geel' betekent. Een kleur die zo iconisch is voor het Porsche merk dat ze in nederland haar eigen website heeft gekregen van een Porsche purist. Deze kleur geel zien we ook bij merken als Ferrari en Lotus. Maar 'Speedgelb' itself is uitsluitend weggelegd voor échte Porsche fanaten!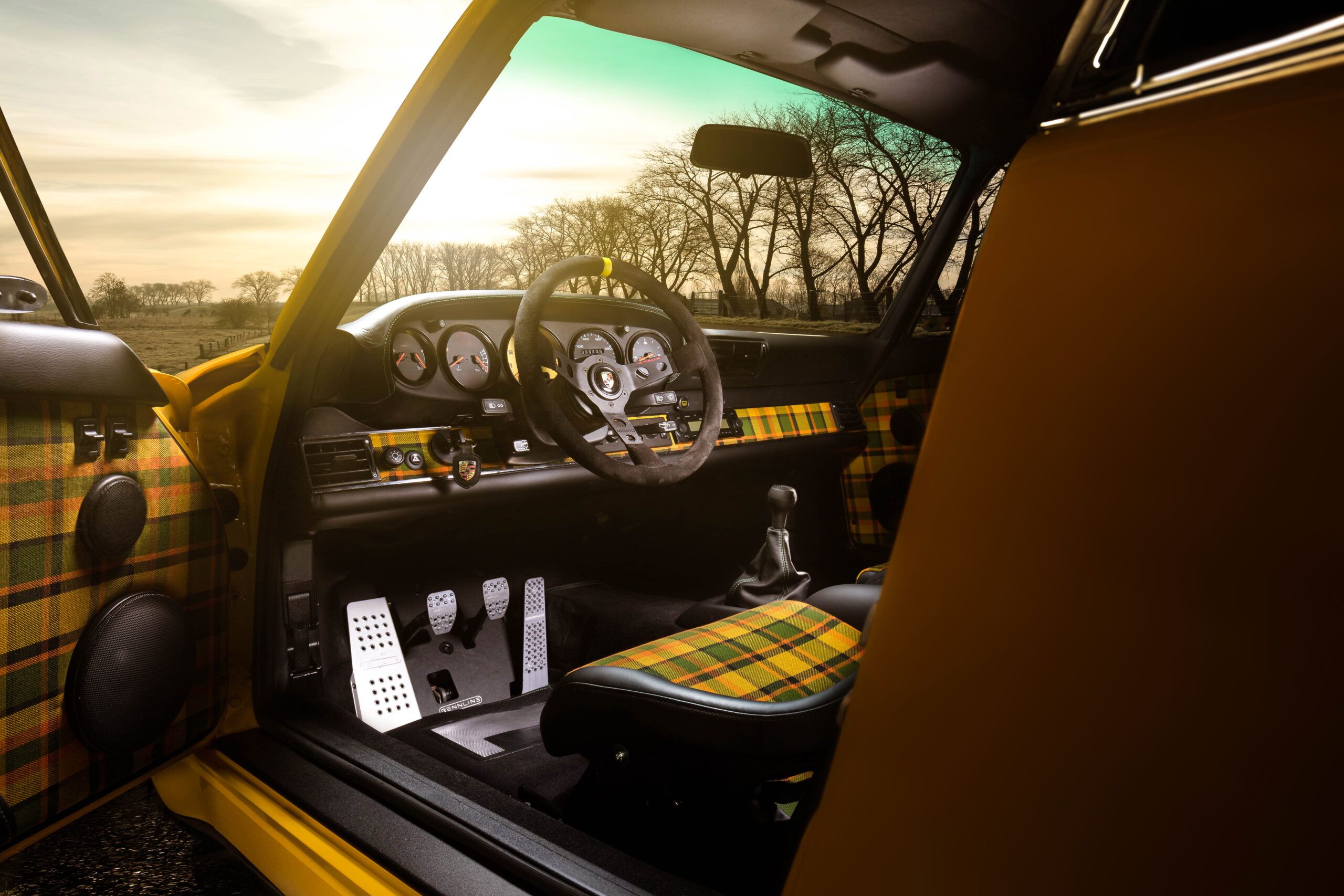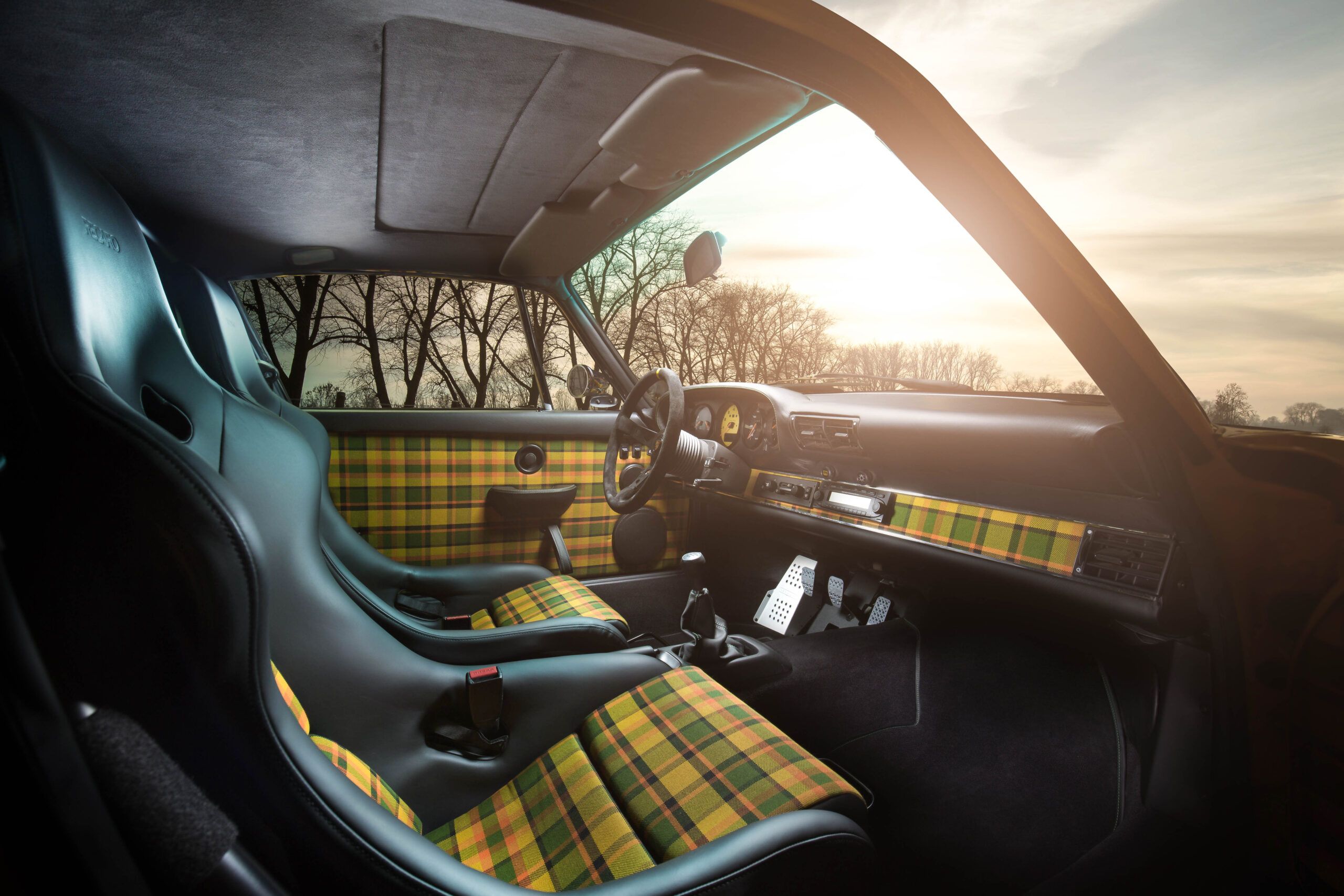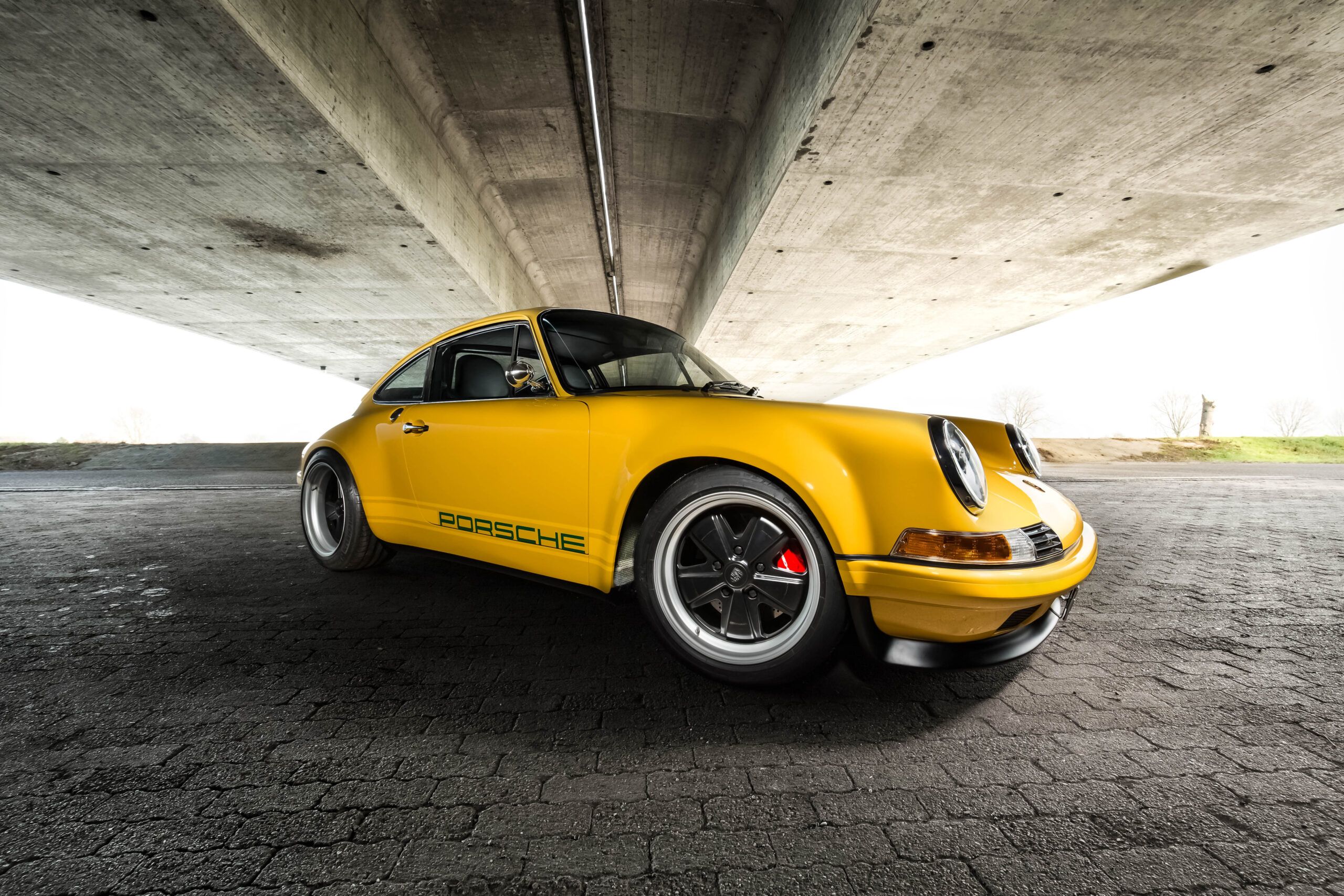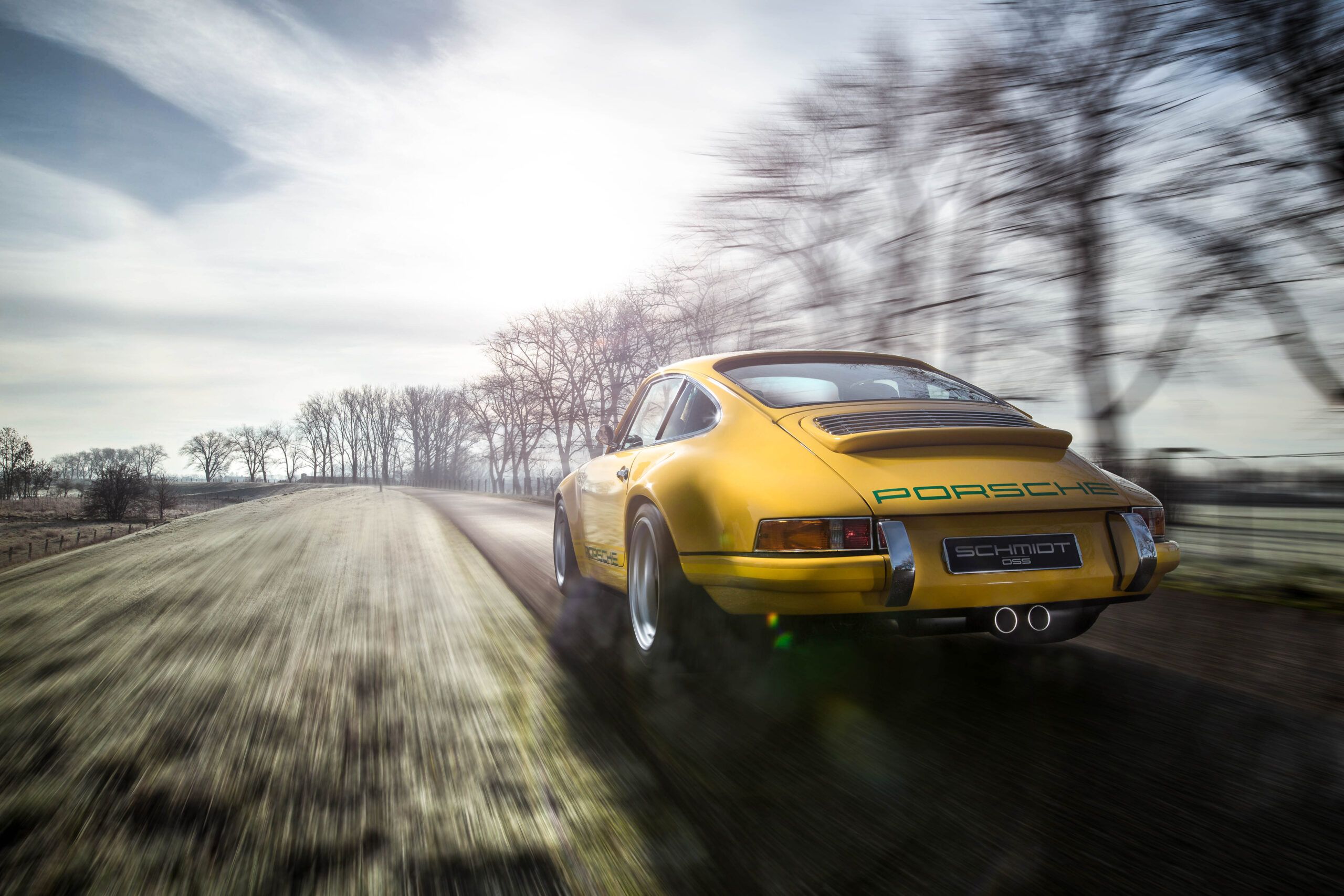 Specificaties 005
Design concept: Need For Speed in the 70's
Color paint: Speed Yellow
Color interior: Black
Lightweight carbon Von Schmidt conversion to F-type look

Updated headlights unique bi-Xenon projector kit

Bullet mirrors mounted in Lexan windows

Polished aluminum boot and hood hinges

Alloy fuel tank with central filler and polished fuel cap

Custom oil tank with polished filler cap installed in right rear wing

Custom-made retro dashboard

Interior black leather with Tartan upholstery inserts

17″ Fuchs replica Porsche wheels in 9 and 11J – RSR design

Michelin Pilot Sport PS2 tires in 225/45/17 and 275/40/17

Kevlar inner wheel wells

Sports camshafts

Enlarged throttle body modified by Cartronics

Custom-made silencer

Overhauled gearbox with limited slip diff.

Rothsport short shifter set

Enlarged custom central oil cooler with 4 Spal cooling fans

Overhauled and improved air conditioning system

Bilstein B16 PSS10-fully adjustable coilover suspension

Rennline front strut mounts

Rennline droplink suspension set

Custom-made front strut brace

Overhauled steering rack

Steel braided brake lines

Upgraded Big Red brake system

Custom detailed instrument gauges

Custom-made decal and striping

Recaro Pole Position sport seats with Tartan upholstery

Wiechers Club Sport roll cage

Carmat Velvet carpeting

Rennline pedal set

Carrera RS Cup steering wheel

Becker classic radio navigation
Wilt u met ons meebouwen aan de Von Schmidt legacy, heeft u andere vragen of wilt u op de hoogte blijven van onze ontwikkelingen? Schrijf je in!